Who could have guessed my cross-Canada book tour might come to a grinding halt on the ninth day for want of a pipe cleaner! After successfully and happily travelling nearly 3000 kilometres with only one modest delay in northern Ontario, it looked as though I'd be begging strangers for a 110V outlet to plug into and spending an unplanned night in Vermilion, Alberta.
Now Vermilion is a pretty and friendly (I now know) town an hour west of the Saskatchewan border, and 200 kilometres from Edmonton. It seems like a very nice place to visit. But an overnight was not part of my plans. So when I inserted the charger handle into Belle the Bolt's receptor, I was expecting the immediate 70 Amp surge and relief of knowing I'd be on my way in about two hours, charged up from a nearly depleted state (60km remaining) to something close to the halfway charge that should get me comfortably to Edmonton.
Instead I got nothing. Nada. No lights. Crickets. Not one to panic too quickly, I unplugged and re-read the instructions on the charger. I plugged in again. I pressed the start button several times. Still nothing. I unplugged and blew on the evidently dusty charger plug. Still nothing.
Then came my saviour, in the form of Kerry from Main Street Hardware, which hosts the adapter on one of its walls.
"Nice to see someone is charging here," she said.
I cleared my throat. "Well, someone is TRYING to charge here. Do you know anything about this charger?"
"No, sorry," she responded. But a guy came by a little while ago and left us some pipe cleaners."
"Ah," I said, bluffing while my brain processed her words. "Maybe to clean out the dust?" I conjectured. "I'd love to give that a shot."
Kerry headed into the store, to return a minute later with a long white pipe cleaner. Now I'm no electrician, but I have a healthy fear of 220V, 70Amp power sources. Twice in Malaysia I made contact with 220V outlets, while doing repair jobs without unplugging. Duh! I wasn't interested in testing if I could survive this one too.
But, logic told me, these things are designed to be safe, and inserting the long thin wire surrounded by plastic bristles into one of the five cylindrical holes at a time shouldn't establish a contact. That's why there are five, right?
Right. Fortunately. Pulling the cleaner out of the first hole, I saw how filthy the white bristles were. This just might be the problem. I continued, a little more confidently, having lived through the first foray.
All five possible contact points now dust free, I took a breath and inserted the handle into my awaiting and badly depleted Bolt. Click, thump (from the wall charger) and bingo, on came the flashing green light. We have contact! I'd be be taking photos in front of the large Ukrainian pysanka (decorated Easter egg) in Vegreville later that afternoon after all. I could plug in again there, and get to Edmonton well before nightfall.
Thanks to Kerry and the pipe cleaner. I kept it, just in case.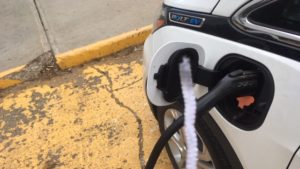 Another lesson learned: when doing long-distance travel in an EV, apparently a whole bag full of cords and adapters is not enough. Bring a pipe cleaner. Bring two, to help out another driver in distress if required.
Day Six (Kenora to Brandon—500kms)
Leaving Kenora early on June 7, I found myself crossing into Manitoba by 9am and travelling happily at a very efficient 90kph along Manitoba's wide and open Trans-Canada Hwy 1. With no particular reason to stop in Winnipeg at this time, I decided to dive south and off the beaten track, heading towards Carman, where an L2 charger awaited me in a small town with various services. My route took me through wide open farming country, and sometimes along gravel roads. Surprise: freshly grated gravel can knock a fair bit off the range of an EV! Still, I'm glad I went this route, if for no other reason than the delicious perogie and kolbassa lunch that I would find at the Breakaway Family Restaurant in Carman, as I whiled away a few hours while Belle charged next to Ryall Park. I had planned to take my bike for a spin, but the rain came down with force as I ate. I saw no reason to rush the enjoyment of good Ukrainian food.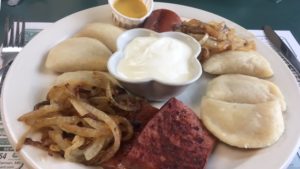 Late in the afternoon, I'd made it to Carberry for another L2 charge behind the town library. Was every pause that day going to be in a town that started with "Car"? I had an early supper of the best homemade vegetable soup and cheese biscuit (scone?) at Links on Main. My four main characters in Burning Souls first meet over scones and tea. Serendipity was at play this day. I ended the day at a motel in Brandon where Belle could fully recharge overnight. Rain once again discouraged me from setting up my tent, and testing the plugs I had brought for hooking into the electrical posts at campgrounds. It could wait—I had another long day awaiting.
Day Seven (Brandon to Regina—400kms)
Another early start took me to Whitewood MB by 9am, where I would write on a park bench in the sunlight on this quiet Sunday morning. See my "Fiction for the Future" post, which was written there. I was aiming to get to Regina by noon, where I'd been invited to have brunch at the Regina Unitarian Centre in advance of my afternoon book launch event. With Belle severely depleted at this point, I drove several minutes north to the Taylor Audi dealer, which has a (free!) high-speed charger. I found myself in one of those peculiarly North American landscapes: a sea of car dealerships. In this case, I should say a sea of pickups, since the ride of choice in many prairie and northern Ontario towns continues to be the pickup truck. I can understand that to a degree, but do so many have to be so large! I hope we'll soon be seeing some viable electric pickup models.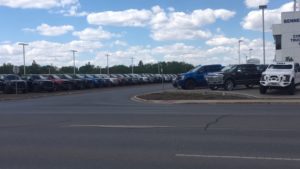 Day Eight (Regina to Saskatoon—260kms)
This was going to be a straightforward day. I could travel to Saskatoon without recharging, but as I wanted to finally take a decent bike ride, I pulled off Hwy 11 in Davidson SK, and allowed Belle to enjoy a leisurely L2 lunch at an auto parts store while I took a spin. As I rode, I was struck by how dry the fields were. Apparently a record setting spring drought, which has farmers and ranchers very nervous. Nervous enough to tell their premier to knock it off with the singularly uncritical pro-fossils and anti-carbon tax rhetoric? I hope so; but I fear not!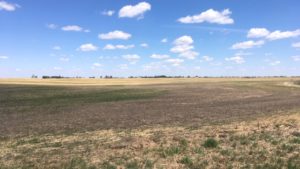 After a classic prairie Chinese-Canadian restaurant lunch, I finished that day's drive with another fast charge at an Audi dealership, then dropped off a batch of books at Turning the Tide bookstore. Thanks Peter, I hope they sell quickly!
Day Nine (Saskatoon to Edmonton—500kms)
The morning drive was happily uneventful. A one-hour stop in North Battleford allowed me to stretch my legs and give Belle her morning snack. Knowing that my relatively clean EV was going to be powered mostly by coal in Saskatchewan and Alberta, I was thrilled to see that at several Sun Country Highway chargers the electrons were in fact supplied by Bullfrog Power. That means it would be wind and solar charging up Belle. She got a surge from knowing that, I can tell you!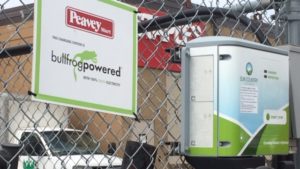 By 1:30 I had entered Vermilion AB, well past the halfway point to Edmonton. I would need to charge for 3 hours or so there, and then for another 1-2 hours in Vegreville, just 100km from my destination for the day. Then came the "Pipe Cleaner Affair"! (see above) What a lovely town, Vermilion is. Try the Red Brick Cafe If ever you have the chance. Vegreville was, for me, a must see stop. It hosts the world's largest pysanka (Ukrainian decorate Easter egg) and with a name like Chernushenko I just had to stop and take pictures.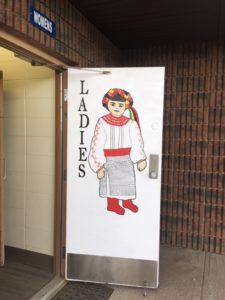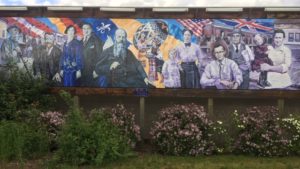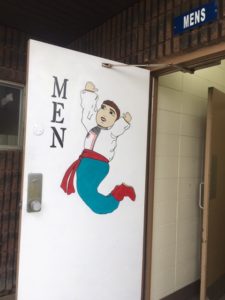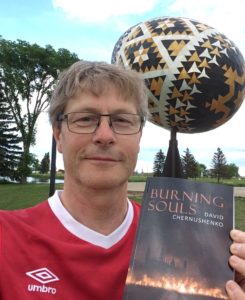 I'd have gone looking for another Ukrainian meal too, but I really did want to get to Edmonton. Surely there would be Ukrainian food there! And places to recharge a very tired Belle.