On day 5 of my Electric Burning Souls Road Trip, I finally have time to start documenting my adventures with an electric vehicle (EV). I intend to make this blog equal parts (1) travelogue, (2)Â  book event and media coverage and (3) reflections on the issues I tackle in my book, and which have come up in conversations at events and chance encounters with people as I travel.
In the travelogue posts, I'll be sharing a lot of factual information about travelling with "Belle" the Bolt. Other times, I'll share observations and photos from my time on the road. Some posts may be a hybrid. Who knows, I'm just getting started. So here we go.
The Prologue
 When my wife and I purchased our Chevrolet Bolt in March 2018, subsequently named "Belle," we said to ourselves, "The range of 360km (less in extreme cold) should be adequate for all our regular needs, including trips as far as Montreal and Kingston. But of course we'll rent a gas car for those rare road trips." Within months we made liars of ourselves by doing a 2000km road trip through Quebec. That was an exception, we agreed, because the Quebec government has invested so heavily in public charging infrastructure, and the number of EVs on the road in Quebec far exceeded other provinces. But then I had the crazy idea of a cross-Canada EV book tour. It was ambitious, to be sure, but a careful look at the maps and apps for EV chargers indicated this would be possible. With planning and patience, one could do it. Certainly in summer, when the Bolt's range might approach 400km, especially with good "hyper-miler" driving habits. Also, with a portable Level 2 charger and a bag full of adapters (notably for RV outlets at campsites, and stove and drier plugs). Ah, but the gap between possible and easy can be wide. Would it prove too wide? And what about when you put 10 boxes of Burning Souls (160 books) into the car, pack it with camping gear and put a bicycle on a hitch mounted carrier? There was only one way to know for sure.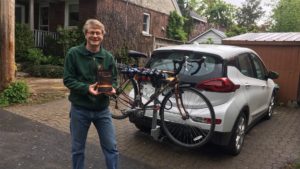 Day 1 (Ottawa to Sudbury—480km)
On a cool and rainy June 3, I set out from Ottawa into a ferocious 40kph headwind. I knew that would knock down my range, but had not expected the loss to be so dramatic. By the time I reached Petawawa, I was well below half a charge! My trusty PlugShare app told me I had several chargers to choose from. The most intriguing one was at Glenergy, a renewable energy company that provides a Level 2 (L2) charger for anyone to use. It seemed like a good place to stop for lunch. And, I soon discovered, to have a fascinating conversation with a true technology pioneer — Glen MacGillivray.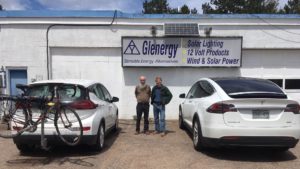 After a long and drawn out lunch nearby (already having the bike with me proved wise, as the nearest eatery was 2km down a busy road) I returned to find my batteries at about 75%. That should take me to Mattawa, where a high speed (DCFC) charger awaited at the Scotiabank. I say should, because that wind had not abated in the slightest, though the rain had now let up. I limped into Mattawa at about a 20% charge, and settled in for an hour of fast charging—enough to get me through North Bay and on to Sudbury, where I would plug into a drier outlet in the garage of my friend Hugh, putting my first adapter to the test.
Day 2 (Sudbury to Sault Ste Marie—310km)
Ah, the best laid plans…
I left Sudbury after my lunchtime book event at the Fromagerie Elgin (thank you reThink Green!)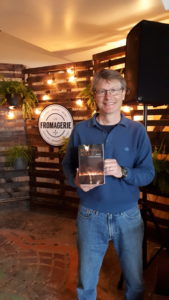 with Belle at about 90%. It might not be quite enough to get to Sault Ste Marie, where I hoped to either spend the night plugged in, or perhaps even carry on towards Wawa. As I approached Blind River, I could see I did not have the 120km range I would need to confidently make it to "the Sault." I knew there was an L2 Sun Country Highway charger at the Pier Seventeen motel and restaurant. I'd spend a couple of hours charging, making use of the WiFi and getting an afternoon tea. Problem! The charger wasn't working. We tried shutting off the breaker and rebooting. Still no connection. Just an orange "Protection" light. Calls and emails to the emergency contacts received no response. (Three days later, still no response, I am forced to add!) Luckily I had my (L1) 110V charger which can be plugged into any wall outlet. This would be very slow. By 7pm, I still did not have what I needed to safely make the Sault. It was time to book a room for the night. I'd get up extra early and try and get back on schedule.
Day 3 (Blind River to White River—450km)
A quick bowl of oatmeal, a cup of tea and I was on my way by 7am. By 8:30 I was plugging in at the L3 charger at Northern Volkswagen in the Sault. After my "second brekkist" I went to the Cambrian Mall to get out of the rain and check out the Coles bookstore. I was curious if a chain store might be interested in (and capable of) stocking a book by an independent author. Store manager Jenn was a joy to speak with. She explained how their system worked, and assured me that she could and would like to stock five copies of Burning Souls if it had a Canadian ISBN number on the cover and was therefore in the system. Yes and yes. Which meant yes.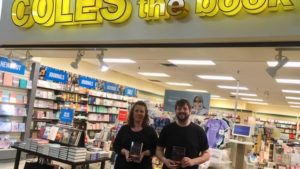 By 10:30, I was headed up the spectacular Lake Superior shoreline towards Wawa. What views, what hills! [insert photo] But a fully charged Belle was up to the task. By 2pm, I was plugged in at a (fully functioning!) L2 Sun Country charger at the Wawa Motor Inn. I would need to stay there awhile in order to make White River, or maybe even Marathon. It was time for a bike ride. My PlugShare app had told me there was a private charger at an enticing private campground and  paddling tourism centre (Naturally Superior Adventures) where the Michipicoten River meets Lake Superior at Whitefish Bay.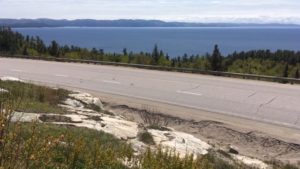 I wanted to check it out as a possible stop on my return trip, when my wife and daughter would be with me. We want to spend as much time in natural settings as possible, and paddling on Lake Superior is high on our To Do list. Owner David gave me a tour, described the facilities at both the lodge and the camping area, and pointed out all the water craft we might use. Then I floated an idea: would he be interested in an "author book reading" when we visited in July? Without hesitation, he said yes!  It was clearly a yes day. So there it is: If you're in Wawa on July 18, catch the Burning Souls author event at the Rock Island Lodge.
With the days so long, I was back on the road for a sunny early evening drive that would take me to the Continental Motel in White River. I could plug in for the night and get another very early start.
Day 4 (White River to Thunder Bay—381km)
I set out at 6am with the goal of making Terrace Bay by 8am. I could get Belle plugged in for her breakfast while I had mine, and took a scheduled call from CBC Radio in Thunder Bay, joining their morning show from afar. I tuned in to the station for my drive, wanting to get a feel for the host and whether they were doing a lead-up promo for the interview. I can say with only a touch of modesty that it is an uplifting feeling to hear your own voice coming over the radio (from the pre-interview the day before) on the 6:30am news while cruising quietly along Hwy 17 in the morning mist. As I waited for Belle to finish her breakfast, I took a walk through Terrace Bay, looking out over the bay under a bright blue sky. Spotting from afar a mural on the wall of the local arena, I took several shots of this true piece of Canadiana. The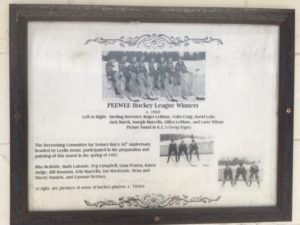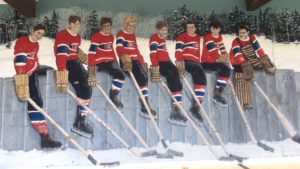 remaining 200km drive to Thunder Bay was again picturesque. I topped up very briefly at an L2 charger in Nippigon, then carried on into Thunder Bay where I made a point of visiting the L3 at the Scotiabank. I'd be 80% charged (one does not want to overcharge an EV at a high-speed charger) and could get to 100% by plugging in my L1 overnight at the home of my generous hosts Margaret and Bruce. At the book launch that evening, Belle was almost as much the object of interest as Burning Souls!
Day 5 (Thunder Bay to Kenora via Fort Frances—500km)
This drive was one of the more challenging ones: long distances with few L2 chargers, and just one L3. I had planned to take the more direct northern Hwy 17 route through Dryden, but was worried that Belle (even fully charged) might not make it. The southern (Hwy 11) route would be slightly longer, but there was an L3 charger at the Tim Hortons in Fort Frances, the halfway point in this day's leg. Not having any reason to rush this day, I dropped my average speed down to about 88kph (on a 90kph highway) and immediately noticed the improved range. Having a tailwind helped also. For the first time on this trip, I was getting close to the 360kph range the car would normally have without a bicycle mounted on the back. It was a reminder that our quest for speed comes with a huge loss in driving efficiency. The optimum driving speed is about 90kph. As you rise above that, the wind resistance curve takes a steep rise upward. That's why American highway speed limits were dropped during the fuel crisis in the 1970s. That's why it is remarkably foolish to raise limits on Ontario's 400-series highways when we are in a growing climate crisis.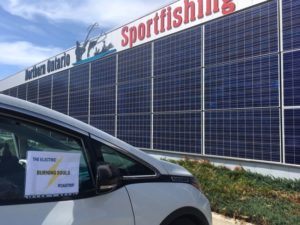 I had to smile, and stop to take a picture in Sioux Narrows at the site of the huge solar wall on the Northern Ontario Sportfishing Centre. I went in to chat with the staff about the building, and learned they were in the process of exploring installing an EV charger there, as requested by a Tesla driving visitor. I said "add me to that request list, if it helps." We need big visible symbols like this, in addition to the non-fossil energy such a project generates.