It turns out my role on this road trip is to spend as much time talking about Belle the Bolt and electric vehicles in general as I do promoting my book. Every stop for recharging is another occasion for engaging with passersby. At highway rest areas, at malls, at Tim Hortons and—on several occasions—with car sales staff and mechanics at the auto dealers that often host charging stations. Everyone is curious. Everyone is thinking of buying an EV, or planning soon to be selling them. I've come to understand that when you make a big deal out of crossing the country in an EV at this relatively early point in the technology adoption curve, you'd better be ready and willing to share your "insider" knowledge. And hey, if the conversation leads to the sale of a book… well, seize it. 
Day Ten (Edmonton, mostly by bike)
Arriving late at night from Saskatoon at my friend Anneka's, I plugged in to the 110V outlet on the garage.  That gave me some comfort, but Belle really would need a full charge before heading out on the next long legs to Jasper and Valemount, then onward to Vancouver. Perusing my PlugShare app the next morning, I noted that the Level 3 high-speed charger at the suburban Londonderry Mall had a particularly appealing element. Sure, it was free, but the real draw was the fact it was solar powered.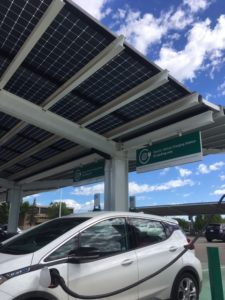 An entire parking area next to the Simons store at this new mall was covered by a photovoltaic array. This provided shade for parked cars (and snow cover in winter) but also, in the case of EV owners, it fed electricity into the grid, which could be said to be flowing into any car plugged in at the fast Flo charger. My car Belle "got a charge" out of knowing this. Thank you to Simons for taking this initiative.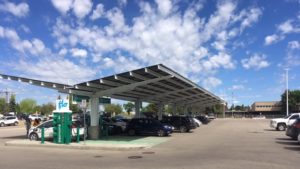 I gather there is a whole story to Simons, and the environmental commitments of the company and its owners. Local reporter, renewable energy advocate and all-around sustainability promoter David Dodge has posted this report (I learned later over dinner with him).
Charged up to 80 percent (one tries not to go much over that level at an L3 charger, so as not to overcharge and risk harming the battery) I returned to my 110V outlet to continue trickle charging for the next day's big leg. Now I could explore Edmonton by bicycle, always the more civilized way to do tourism. My "classic" Fuji touring bike — let's call her Flo — had been waiting for this moment. Or am I anthropomorphizing too much?
By bicycle, I rode for over an hour through some of Edmonton's ravines, parks and greenways. At one point, I stopped to take a photo that says so much about where we are now as a society, and notably where Edmonton and the province of Alberta are now. These shots show a community centre and several adjacent homes with significant PV arrays on their roofs.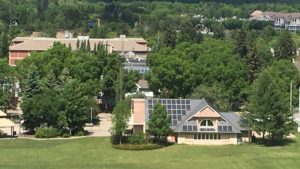 They also show the Edmonton skyline, where both City Hall and the provincial legislature are nestled. Edmonton under Mayor Don Iveson has made phenomenal progress on many fronts (protecting greenspace, climate breakdown adaptation planning, increased public and active transit investment and a whole renewable energy transition strategy). Yet it remains a sprawling city where single driver commuting is still the norm. Like most cities.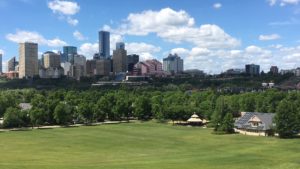 Alberta had begun to make important headway towards building the green energy economy and starting the transition away from fossil fuels in favour of the high-employment renewable energy economy under the Rachel Notley government. And yet building more pipelines to ship more diluted bitumen to markets far away remained an important element of that government's policy. Conflicted, to say the least. Well, the Jason Kenney regime is not the least bit conflicted: it appears they are all-in for halting important climate breakdown mitigation tools, going so far as proposing a "war room" for trying to convince Canadians that we really should be loving oil and gas, and that environmental advocates and concerned citizens are misguided, traitorous and guilty of fake news. Listening to the radio and reading the papers in Alberta I can see how torn the citizens are. Deep down they know there is no long-term future in oil/gas and yet for decades it has been portrayed as, and come to be seen as, the engine of the economy and the source of all well-paying jobs and social benefits. Ah, for a level-headed debate about the future of the province's economy and the place of oil and gas in this. Groups like The Natural Step Canada and the Pembina Institute are working to encourage such debate, but that's hard to do when you have a new premier vilifying anyone undertaking such critical, nuanced work.
Day Eleven (Edmonton to Valemount—530km)
With a long day ahead, I set out very early just as Edmonton's rush hour was getting going. Yes, (the irony!) I became part of Edmonton rush hour! I spent the morning driving through the green and increasingly rolling and forested landscape. My soundtrack for the drive was intentionally chosen, as it often has been on this trip: k.d. lang was born in Edmonton and grew up in Hinton a little further to the south and east. She has been courageous in championing a number of causes (animal rights, HIV/AIDS, Tibetan human rights) and in coming out as a lesbian in 1992. For anyone, this will have been difficult and demanding. For someone from ranch country, in a mostly conservative province, it will have been doubly or triply so. That's a reminder for all of us, and for me as I engage people in an uncomfortable but necessary exploration of how we are living our lives and organizing our world. 
Above all, though, I admire k.d. lang as a phenomenal musician, with one of the most extraordinary voices. As usual, I enjoyed singing along loudly to her Recollection and Shadowland albums for most of the way from Edmonton to Hinton. And you wonder why I'm doing this trip alone!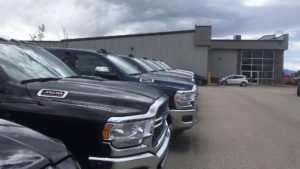 Contrasts again. At the Big Rock Chrysler Dodge dealership in Hinton I was met with friendly smiles, welcomes and curious questions from a young mechanic and several sales staff. For this and use of their L2 charger I am grateful. So it is not the car dealers I criticize whenever I observe the contrast between one lonely EV in the lot, among rows and rows of big trucks and other such vehicles. I know that many people truly need the power, the suspension and the cargo space for their work and for the roads they drive regularly. For them, I hope electric powered versions are not too far off. For the many others who do not "need" such vehicles, all that this one guy from the city in the east can do is encourage you to ask whether all that weight and power is truly what you need, or whether the purchase of such a vehicle is the result of decades of social conditioning. k.d. lang has shown that you can confront generations of conditioning. The support she received from many Albertans and other conservatives shows that people can come to see their world in a new light, and feel all the better for it.
In Jasper, Alberta (in the middle of a national park) the most convenient charger was at the public library. I would need two hours here in order to comfortably set out on my last leg to Valemount, BC. It was time for a stroll, and an afternoon tea. But wait a minute, this was a library. I have a book. Even the road-weary brain could make the connection. In I strolled to see if I could find someone responsible for acquiring new books. What did I see first, though? A prominent display on the topic of climate change. What was missing? A copy of Burning Souls of course.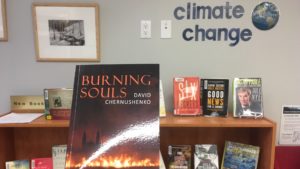 I chatted with a friendly librarian who invited me to leave a copy of the book, as well as my contact details so her manager could consider it. Perhaps they would buy it. That was good enough for me. Maybe it will be a purchase, maybe just a donation in the end. It's not as if public libraries are being excessively funded these days (yes, I'm talking to you Doug Ford and several other premiers!). 
The drive to Valemount was one stunning view after another. Including this one of a partially covered Mount Robson. I couldn't linger with the crowd of photographers waiting to see if all the clouds would lift, though. I had to get to a motel in Valemount—the Raptors games was about to start! I knew I would find an L2 charger awaiting too; essential for taking me to southern BC where I would begin finding a series of fast chargers awaiting.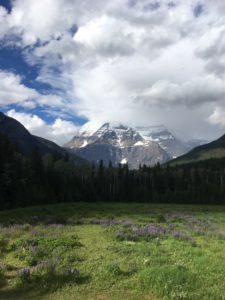 The highlights of my Best Western motel stay included a friendly and cooperative swapping of parking spaces at Raptors-Warriors half-time with Allen, another Bolt driver, so we could both be fully charged by morning. He would finish charging early the next morning, since I planned to leave much earlier than him. Then there was the sale of a book in the most unlikely of places—the hotel lounge, while watching the game (to a bike tourer from Edmonton!).
Day Twelve (Valemount to Vancouver—670km)
This would be my longest day yet. I wanted to get to Vancouver before Friday afternoon rush hour, and in time to meet up with my son at his workplace, Landyachtz (makers of longboards and bicycles) where my Monday book launch would be hosted.
The trip from Valemount to Kamloops was glorious as the sun pierced through the early morning mist all along the North Fraser valley. I was able to stop at two (free) fast chargers at rest stops along the way. My venture into Kamloops proved a bit of a disaster, at first. I searched in vain for a particular charger, which proved to be blocked by parked cars and also intended for city vehicles only. Then I wandered through road construction and made a few wrong turns, eventually finding my way to Smith Chevrolet, where my fortunes improved enormously. The staff offered me use of the L3 charger to get Belle up to an 80% charge as I used their WiFi. Then I switched to the slower L2 to carry on charging while I found lunch.
With both car and driver well fed, I set out on the long (and much faster) Coquihalla Highway towards Vancouver. The climbs and descents on this route are epic, as are the views; at least until the last 90 minutes or so approaching the big city. My stop for one final charge at the Britton Creek Rest Area was more eventful than usual. Plugging into the fastest charger I've ever encountered for 30 minutes, I noted BC Hydro's marketing slogan of "your natural power source." Though there are issues surrounding large dams for hydroelectric power production, I'm on board with the fact that, on balance, power from BC's many running rivers is far cleaner and more sustainable than fossil fuels and nuclear. Adding solar and wind to the mix is making that electricity source even cleaner.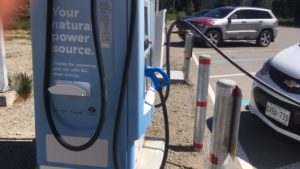 For my entire time here I fielded questions from interested drivers and passengers of all the usual internal combustion engine vehicles. Several even expressed interest in my book and left with bookmarks pointing them to this blog and ordering information about Burning Souls. It seems making a spontaneous purchase out of the back of a stranger's car— however friendly he may be, and intriguing his car is—was a step too far at a highway rest stop!
Day Thirteen (Vancouver by bicycle—30km)
Time for a break from trying to be a saviour, so as to just savour the best of Vancouver by bicycle with my son Eric.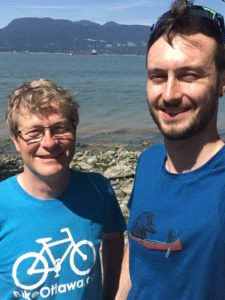 Fourteen (Vancouver to Squamish and back—180km)
I spent Father's Day with Eric and family friend Lara and partner Craig, driving out and back to Squamish for a challenging climb up the Chief. A beautiful day with beautiful people; and a short free fast charge in central Squamish just because it was there, and we were buying breakfast muffins nearby. BC Hydro is really making this EV road trip thing easy!