The fourth and fifth weeks of the "book tour" have been a blend of work and play, with the balance tipped towards play. Still, there were several great book event stops, some hilarious serendipity book sale moments (continuing the "least likely places to sell a book" trend) along with long drives, beautiful places, lovely people and some overdue recreation time with family.
Day 22 (Lethbridge AB to Fernie BC via Cardston)
A diversion to Cardston for a delightful family lunch (I have many cousins in the region, but have not kept up with them until now) meant we would have just enough power to get to the next fast charger at the top of the Crowsnest Pass in Sparwood. Little did we know how close a call it would be. If not for a 45-minute tea break in Pincher Creek at a lowly L1 outlet on the wall of a motel "just in case," we'd have been calling the CAA and I'd be writing in great embarrassment about the time we ran out of power in the middle of a storm! But that's not the story. Instead, I can relate how my knuckles got whiter and whiter on the steering wheel to the soundtrack of a series of warning bells, with visuals to match.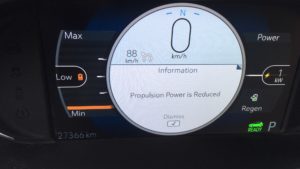 "Low power. Very low power. Charge immediately."
Then, with not a moment to spare, we reached Sparwood, home of the massive mining truck named Titan, and an L3 fast charger. That it was also free  (courtesy of BC Hydro and partners in the Accelerate the Kootenays initiative) was of no consequence at this point. I'd have paid handsomely to get my heart rate back to normal and the family to Fernie BC for the night.
But the story was not quite over. We settled in at a pizza parlour for supper just as the dark grey sky exploded. "Better place your order quickly before the power goes down," said the owner. We laughed. Then it dawned that the oven would be on the same power grid as the charger. When a hot pizza arrived 20 minutes later we knew we'd be okay. There would be enough fuel in our bellies; in Belle's too.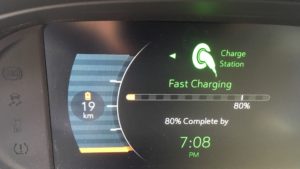 Day 23 (Fernie BC to Nelson BC via Kimberley)
We took a less direct route in order to see more of the region, lunching and charging in Kimberley (L2). An additional L3 charge in Cranbrook got us to Nelson. Belle would be on public display there as part of the book event hosted by the West Kootenay EcoSociety. Several people came especially to ask about EV ownership and travel.
Day 24 (Nelson BC to Kelowna BC)
Our morning fast charge at Kaslawsky Chevrolet in Castlegar offered a surprise. The car dealer is located at one end of a "complete street" rebuild of the main route through town, now featuring wide sidewalks, raised cycle tracks and new landscaping.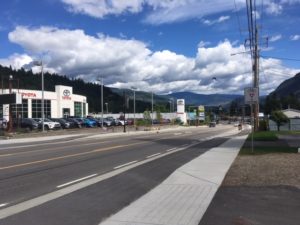 I was particular attuned to this (and the government posters that boast of their financial support) because just such a conversion of Main Street in Ottawa was one of my proudest moments as a city councillor. Everyone deserves complete streets!
At Greenwood, we plugged into the L3 charger over lunch. I returned to find a queue. This offered a moment for friendly banter among EV owners, the sharing of local charging advice and (wouldn't you know) a book sale.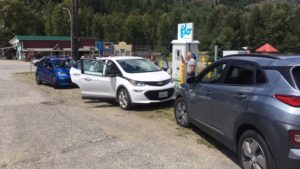 Day 25-27 (Kelowna region)
A four-day stay with friends in Kelowna gave us some rest and recreation time, and a chance to prove you can indeed recharge the large battery pack of a Bolt using just a 110V trickle charger. If you hang out in one place over several days.
Day 28 (Kelowna BC to Revelstoke BC)
Warned that we'd be entering grizzly and cougar country at Revelstoke, we bought our first-ever can of bear spray while exiting Kelowna. You need to register, did you know?! During the drive, we familiarized ourselves with how to use it, and how best to avoid ever needing to: be loud, be aware and travel in groups. "EV range anxiety" was about to take a back seat to "wild creatures with sharp claws anxiety!"
At the Dutchman Dairy ice cream stop I had the first of several serendipitous encounters with people from Ottawa. Both leading to book sales—of course! In this case Phil and Ann from church.
Reaching Revelstoke National Park as the window of good weather was closing, we did a short hike that afternoon, hoping for a longer one the next day (with the bear spray) if the heavy rain held off. It wouldn't. Dinner and an L3 charger were to be found in the town of Revelstoke. A great book store too. I was advised to talk to the owner the next day about stocking Burning Souls.
Day 29 (Revelstoke BC to Nakusp BC)
As the skies opened, we had checked into the Three Valley Chateau hotel. In the morning it continued to pour. In place of that long hike, we took a walk through history in the adjacent "ghost town." Among the eclectic collection of buildings, artefacts and trains you can find the wagon from which Pierre Elliot Trudeau once offered protesters a view of his middle finger. The Salmon Arm Salute, it has been called ever since.
The Grizzly Book and Serendipity Shop is a charming spot in Revelstoke. Never has there been a more apt name. Just as the owner completed the formalities of taking copies of Burning Souls on consignment, in walked Bill and Sheila, friends and cottage neighbours from Ottawa. Loud greetings, some stories and a book sale followed. Serendipity Shop indeed!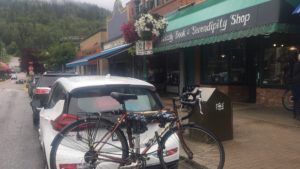 A great dinner and a quirky hotel room were to be had that night at the historic Leyland Hotel in Nakusp. 
Day 30 (Nakusp BC to Kaslo BC)
I rose early to leave Belle at the L2 charger in Nakusp and take a walk along the lake front. Weird coincidence: for no known reason I had dreamed something about Passive Houses the night before — that's a highly energy efficient form of "green" building. So what was awaiting me along the Nakusp lake front? Three brand new adjoined passive house units!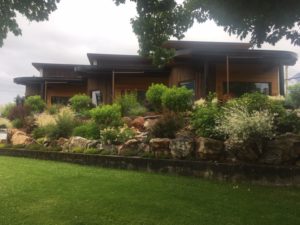 That day's leisurely drive down the Slocan Valley brought us to New Denver for lunch and an outdoor market. Another chance to put our bear spray to the test (or try not to have to) came with a vigorous climb up to the K&S rail trail at Three Forks.
Day 31 (Kaslo BC)
With Belle charging right nearby, we went with friends Andy and Gail to the Saturday market in Kaslo. Later we would visit the SS Moyie (a historic sternwheeler that once played a fundamental role in supplying and traveling among Kootenay Lake communities) and take a long walk along the spectacular Kaslo River Trail. Still no bears or cougars! Little known fact: Kaslo (pop. 968) has long had a Kootenay Carshare organization, and it includes a Chevy Bolt. I could see Belle smiling!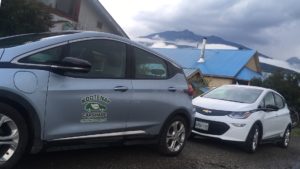 Day 32 (Kaslo BC to Waterton Lakes National Park)
We began this long travel day with a ferry ride across Kootenay Lake— the longest free ferry crossing in the word, apparently. Several hundred kilometres later Belle and her driver and passengers refuelled at a fast charger at the Jaffray Pump and Pantry. We were headed back over the Crowsnest Pass with plans to recharge once again in Sparwood. I took pains to ensure this time would be less dramatic. An 80% charge in Sparwood meant we could reach a campground just outside of Waterton Lakes with something close to half capacity, just in case there were issues with recharging using the portable charger I had been carrying all this time but had used just once in Sudbury. Indeed, there would be issues. Plugging in at our campsite's RV post at the Crooked Creek Campground we could get no more than 11.4 Amps. That's no better than using our basic L1 110V plug. Trickle charging, at best! What was the problem with our set up, we wondered? With enough time to trickle charge up to full capacity over the two nights we'd spend there, we chose to focus more on hiking, cycling and high tea. We could figure this out later, we decided.
Day 33 (Waterton Lakes National Park)
The short drive into Waterton Lakes National Park took us through scenery both spectacular and shocking. We knew this region had been badly hit by fire a year earlier, but the sight of so much scorched forest was a shock nonetheless. Still, as Edward Burtynsky's photos show us, there can be beauty in devastation. And in the case of forest fires, beauty can follow devastation. The 10km round trip hike to and part way around Bertha Lake offered alternating and even simultaneous glimpses of beauty and horror. With scents to match.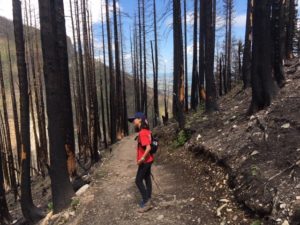 After this long day of climbing, we thought we deserved a treat. It was time for afternoon tea at the Prince of Wales Hotel! 
Back at the campground we took another shot at trying to get our L2 charger to act like one. We were plugged into a 50Amp outlet, using a 30Amp "dog bone" adapter. It should have worked, I thought. Despite multiple tries, and playing with settings, the best we could ever get was 11.4A, instead of 30. I'd have called my guru advisor in Ottawa for his thoughts, but it always seemed to be well after 10pm EST.
Day 34 (Waterton Lakes to Medicine Hat AB)
Our 3-hour bike ride along the Red Rock Parkway in Waterton Lakes Park was gorgeous. There is rebirth after fire, as long as the fire is not too intense. We are learning about allowing natural fire cycles to occur, rather than trying to extinguish everything only to get a mega-fire later. The Red Rock Parkway is now closed to all but hikers and cyclists, owing to the damaged road and the toxic residue left from fire retardant spray. Enjoy the view and the quiet, but don't picnic on the grass!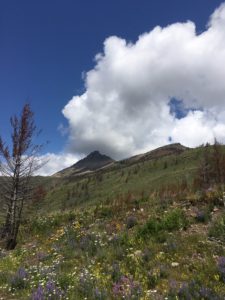 As I cycled the final section entirely alone, I recalled the bear warnings. This is prime grizzly habitat, and I had left the spray with my wife and daughter, gallant man that I am! Pedal hard, and ring your bell frequently I decided. That felt weird at first, but I got over it.
Day 35 (Medicine Hat AB to Grasslands National Park SK)
The drive to Grasslands National Park along smaller rural roads was a treat. But it was long, and we were driving into a 40kph headwind and cross breeze much of the time. Our battery reserve plummeted. As planned, we recharged partially in Shaunavon, at an L2 at the Wickenheiser Centre. Recognize the name? Hint: it's a hockey arena.
Arrival at Grasslands National Park came with new warnings: we were no longer to worry about bears and cougars; now it was bison and rattlesnakes! But it was not bison and snakes that would inflict damage upon us here. Killer mosquitoes got us first. We couldn't even stay out to watch the stars, though  in this "dark sky" country we had wanted to.
For a long while, we sat in the tent worrying about our very low battery charge. If the L2 charger could not be made to act like one, we might not even make it to the nearest L2 charger, let alone to Regina the next day, where Marie-Odile had an important engagement. Call Matthew? Again it was well past the decent hour to do so. Instead, from the Parks Canada shelter, I sent him panicked messages in several forms. And then Marie-Odile took charge, getting enough of a WiFi signal to do some online searching. It seems that a 30A outlet at a campsite is not necessarily any better than a 110V outlet, if it's a 110V wire that is feeding it. No, you want to use the 50A outlet, if there is one. There wasn't at the last campground, but here in the remote wilds of Southern Saskatchewan, where bison, rattlesnakes and mosquitoes own the territory, there was indeed a 50A outlet. In went the plug. Click! We now had a full L2 service that would get us fully charged by morning! Hurray for the park WiFi, for helpful EV forums and for an electrically-curious wife.

Day 36 (Grasslands National Park SK to Regina SK)
We took an extraordinary hike along the Broken Hills Trail. The wind which had been our enemy for driving the day before was now our ally in suppressing the "mozzy" assault. 
Though we sighted plenty of bison pies, there were no bison or rattlesnakes. The German backcountry camper we encountered had a different experience, though. A bison had settled down next to his tent for the night. He slept very little.
Cross-breeze and a tailwind took us to Regina on one charge