Long Distance Travel by Electric Vehicle – 10 Things to Know
What if you run out of power and get stranded? How do you know where to find the chargers? What if somebody gets there before you? Won't it take, like, forever!?
When you own an electric vehicle (EV), decide to take it on a long road trip, and to let the world know about it, you can expect questions. As a long-time cyclist, walker, transit rider and even skater by preference over driving, I wouldn't have thought I'd find myself in the position of talking endlessly—and enthusiastically—about owning, driving and charging my EV. But here I am, fresh back from a 10,000 kilometre cross-Canada trip, doing just that.
Based on my own experience and conversations with other owners and "planning to soon" drivers, here are my thoughts on long distance travel by EV. Some of this is exclusive to EV driving; some is applicable to car travel of any kind.
Plan, but stay flexible.
There are a half dozen apps that will show you where every charger is on your route, how fast they are, who operates them, what they'll cost and even what nearby facilities you can find (toilet, accommodation, food and more). You could plot out your entire route in advance, if you want to, but I don't advise it. For two reasons. First, you'd miss out on surprise opportunities and detours. Second, there will be surprise opportunities and detours. Among those surprises are things some would call setbacks or challenges. Weather (headwinds, heavy rain and fog), road construction and recent damage to the highway come immediately to mind. Then, for the EV owner, there is the possibility of your chosen charger being out of commission or occupied, maybe even with a line-up. Think about where else you might charge and what you might need if there is no charger at all. See below for my tips. And did I mention staying flexible?
Take it slow and get off the beaten track
The basic laws of physics apply to any moving object, and vehicles travelling over 80 kilometres per hour are particularly susceptible. Wind resistance or "drag" will affect your range more than you noticed when driving a legacy internal combustion engine vehicle; after all, gas and diesel have always been plentiful and cheap. An electric charge, on the other hand (though usually far cheaper than gas) is currently relatively scarce and inconvenient to attain. Since the amount of wind resistance increases on a logarithmic scale, the faster you drive, the more resistance you will meet, and therefore your range will decrease noticeably as you move above 90 and then 100kph. I found that my optimum speed for long-distance travel, taking into account the time spent/lost driving vs the time spent/lost charging is about 88kph. As I nudged up over 90, my onboard screen would show me how the kilowatts hours my Bolt was consuming was moving up rapidly. From about 14 at 88kph, to 16 at 100, and 19 at 110. If I wanted to get to my next destination faster, it was not necessarily faster to drive fast. Follow? If driving at 88 would take me 420 km under current conditions, then driving 110 would barely take me 300km. On some days, that would mean having to stop for a recharge, or several. And if the charger available was only a Level 2 one (as us often the case) then I would need to spend anywhere from 2-7 hours at that charger to complete my trip. Even at a high-speed charger (rare birds that they still are), I might need a good hour or more there. The good sense of driving at 90 rather than 110 would become starkly obvious. 
And here are the other benefits of taking it slow:
Less noise from the drag
More time to appreciate landmarks, beauty, and wildlife
Better response time to avoid hitting/killing wildlife. People too!
Enough time to make an unplanned rapid stop because something out there, which would otherwise have just whipped by, appeals to you.
Some will assume that driving at 88 or even 95 makes me (you) a nuisance driver. Sometimes, yes, but rarely. When on an undivided highway posted at 80 or 90 kph you have plenty of opportunities to move over and let pass any line of speedsters that wish to get the speeding ticket you will never get. I recommend doing so. When on a divided highway, there is usually plenty of room for passing. Truckers in much of the prairies have about 10 minutes to move over and pass from when they first spot you to when they reach you. And the volume is rarely high, so you are very rarely a nuisance. This being said, when in a high volume, high speed situation, I speed up to match the flow of the slow lane. It's just the smarter and safer way to drive.
Bring adapters and a portable charger, and know when/where/how to use them.
Even with the best planning, or maybe as part of that planning, you'll likely want more than the 110V "Level 1" charger that came with your car and plugs into any outlet. Carrying a portable Level 2 charger (like the one most EV owners will have at home) plus a set of adapters will allow you to plug into the stove and dryer outlet of that friend you are visiting, or the charger post available at many campgrounds and provincial/national parks. But here is a tip gained from experience: know how the charger works and how to reprogram it for various possible outlets (the trick is in the Amperes available, as well as the Volts). Practice before leaving. The Grasslands National Park, on the outer edge of southern Saskatchewan, is not the ideal place for troubleshooting.
Anything outside the vehicle is a drag. Weight inside can be too.
That roof rack, ski box, gear bag and bicycle hitch can make a difference ranging from small to quite significant. Hitting the road with 100 kilos of books, plus a bicycle on a rear-mounted hitch probably knocked about 10 percent off my cross-Canada range. Travel as lightly as you can manage, and try to avoid those outside Klingons.
Charge up at the second last opportunity
EV chargers, at this time at least, are less predictable than the gas pumps we are used to. Though they will almost always be working as expected, since they can be either in use, or out of order, it's best not to wait until the last possible charger. I practice "second last" charging. After all, what is the chance of two chargers in a row being out of commission. If this means you stop more often than you might "need" to, return to the top of this list: take it slow. Eat regularly, take a bio break and have a nap, a walk or a chat with locals and other travellers. Not only will you get there just as fast in most cases, more importantly, you will get there, period. Sleep while charging, not driving.
Learn and practice good etiquette
Some veteran EV owners shared the following etiquette with me, and I try to share it and practice it myself. At a high speed charger, connect for no more than an hour. At a Level 2, connect for no more than two hours. Then reconnect if you still need to.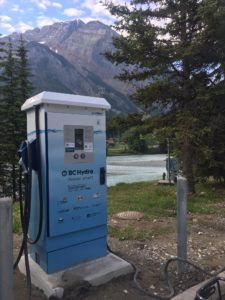 For as long as chargers are relatively scarce, it pays to share them fairly and build bonds with "the converted." Above all, leave a card on your dashboard telling others how long you plan to be there, and how to reach you. Of course you want to charge up quickly and get going, but somebody else just might be late for their daughter's graduation or their son's wedding if they don't get that one hour they need at the charger. Perhaps, unlike you, they didn't plan ahead. Remember the be flexible? And one more thing: "check in" on an app like PlugShare so others will know how to reach you. Leave comments and helpful tips when you're done. And report problems with the equipment to the operator.
Thank charger hosts, and tell them why you chose them
Since a lot of chargers are being hosted (and even paid for) by businesses or municipal governments that do not benefit directly from doing so, let them know you appreciate their role as an early adopter/provider. At a motel or restaurant, or a town tourist office, let them know you stopped, shopped, ate or stayed where you did because of the charger. They need to know this when it comes time to evaluate the benefit of their investment, notably when it's time to make repairs, or consider adding an additional charger.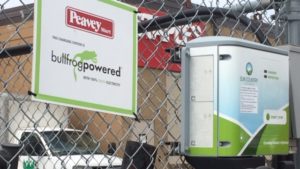 In places where you would really like to have been able to charge, consider telling the relevant manager that "this would be a great place to put in an EV charger." EV travellers will only get more numerous, and it should pay for a town or businesses to entice you in.
Get RFID tap cards for all charger providers
Charging station operators like Flo, Electric Circuit, ChargePoint, myEv and GreenLots have systems for allowing you to become a member and then use your smartphone or an RFID card to quickly and smoothly check in and start the charger. Order all the cards you might need for your area of travel well in advance, then make sure you have linked them to a credit card or other form or automatic payment, and pre-loaded a certain amount of money onto your account where relevant. It's a lot easier to do this from the comfort of your sofa, than in the rain, scorching sun or the middle of a blizzard.
Carry pipe cleaners
Who would have thought the pipe cleaner would be an indispensable tool for staying on the road with an EV? Outdoor chargers can collect dust and grit inside their various plug parts.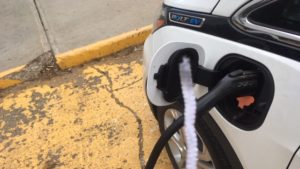 A cheap pipe cleaner will usually clean them out, and allow you to make a charge connection. It did for me in Vermillion, Alberta. Buy a pack. That way you can share with others.
Audio books are great
If you are going to be spending time on the road, whether driving or waiting for your car to charge, I can think of nothing better to have than a great library—of music, naturally, but definitely some really great audio books. After this summer's trip I'm hooked. So much that I'll be heading into the studio this fall to record the audio version of Burning Souls. Stay tuned to this newsletter (sign up, if you haven't) for news of its release.