The final (sixth and seventh) weeks of the tour continued to be a blend of work and play, as I travelled with my wife Marie-Odile and youngest daughter Anna, doing a combination of Marie-Odile's work stops, family adventure and my own book events. Whenever possible, we left the Trans Canada Highway in favour of smaller, quieter and more scenic alternatives. My lifetime of cycle touring has told me that it is on the quieter routes that you will get a better sense of both the geography and the social organization of a place. It is also where you are much more likely to meet local residents, eat at non-chain restaurants and, naturally, see wildlife. 
Day 38 (Regina SK to Brandon MB — Approx. 500km)
After an early morning (foggy) bike ride around Wascana Lake as far as the First Nations University we loaded up a well-rested and charged Belle the Bolt and headed southeast toward  Stoughton on Hwy 33. There we turned due east onto Hwy 13, which runs parallel to the Trans Canada for much of the width of Saskatchewan and Manitoba. It is also part of the Red Coat Trail, which approximates the original route taken by the North West Mounted Police (precursors to the RCMP) as they headed towards Lethbridge and Fort Macleod to "establish law and order" in 1874. Our one lunch and recharging stop was at the campground in Redvers, Saskatchewan where we were welcome to plug in at a 50A RV spot for several hours, giving Belle what she would need to make it to the Brandon motel where our overnight charge awaited. Needing sustenance of our own, I purchased a locally-baked and sourced Saskatoon Berry Pie. How could we visit Saskatchewan without trying this famed local delicacy? On our way out of Redvers, we stopped at a "pick your own" Saskatoon Berry grove and learned the owner was the one who had made our pie! I also learned that this exotic berry is in fact closely related to the serviceberry bushes so common in our home city of Ottawa. Serviceberries usually go unharvested in the city, which has prompted organizations like Ottawa's Hidden Harvest to get volunteers to harvest them and make jam. They are nutritious and delicious raw and straight from the bush, we learned! 
As with many days driving through Alberta and Saskatchewan, I was surprised to see so many oil and gas pumps at work. Often they were spaced mere hundreds of metres from one another, in the middle of farm fields, for hours on end (or so it seemed). I'd seen lots of solar panels and wind turbines, but nothing close to the ubiquity of these fossil fuel pumps.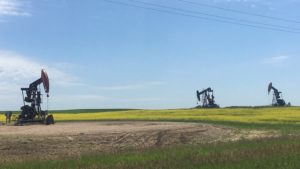 Day 39 (Brandon MB to Winnipeg MB — 213km)
The early morning drive to Winnipeg ended with a fast L3 recharge at Polo Park Mall, then an overnight trickle charge at the historic Fort Garry Hotel, part of the chain of Canadian "railway" hotels. We explored Winnipeg's recently redeveloped Forks area, reminding me how Ottawa's Lansdowne Park could have been redeveloped with more green space and far less emphasis on retail business.
Day 40 (Winnipeg MB to Kenora ON — 209km)
A book event awaited me in Kenora, Ontario at 3pm. We could easily cover the 209km in time for lunch, so I had time for an early bike ride north along Winnipeg's Red River route, then across to St. Boniface and back. Once we reached Kenora, Belle was plugged in at the L2 charger at the Clarion Lakeside Inn (where I had charged heading west five weeks earlier). I then headed to the Kenora Public Library. An enthusiastic crowd of about 15 (on a summer Monday afternoon!) took part in a lively discussion about fiction writing, personal action on ecological issues and more. By the end of the event, I was down to my final eight books of the 160 I head left Ottawa with. Would it be enough? Thank you to Climate Action Kenora for a great event, and to host Meg for the hospitality and the L1 overnight charge. We would need it for the long drive to follow.
Day 41 (Kenora ON to Thunder Bay ON — 561km)
I had learned heading west that the Hwy 17 route through Dryden was more direct but has all the truck traffic and (now) most of the summer vacation traffic. It also has no fast chargers and few L2 ones. There is a risk of being stranded in an EV or at best, waiting a long time at an L2 because somebody got there first who (like you) needs to charge for several hours. So, we opted once again for the MUCH quieter and very scenic Hwy 11 through Fort Frances, which happens to have a fast L3 charger. What's not to like? And beautiful it was. But… somebody had just arrived at the fast charger when we pulled in, and he needed as long a charge as he could get. I'll talk about charger etiquette in my next blog post. As fate would have it, Harvey Soicher's story was an interesting one, as we learned over a long lunch and a walk together, so time passed fairly quickly. He also bought a book.
Now I was down to 7 for my final event in Wawa. We left Fort Frances later than planned, and with a lake swim break, a picnic supper and a stop for a picture at the Continental Divide lay-by, we would not reach Thunder Bay until almost 10pm (we had crossed a time zone too).
Day 42 Thunder Bay ON
Like Lethbridge, Regina and Winnipeg, Thunder Bay was a working stop for my wife Marie-Odile. I cycled in the morning and then went with Anna to Kakabeka Falls. As we hiked, we learned about the original trade route and the major portage around these falls, which also served as a travel route for those same mounted police heading to Alberta. The highway would come later.
Day 43 Thunder Bay ON to Wawa ON — 478km)
Some say the trip around Lake Superior is the most challenging part of a cross-Canada drive, especially in an EV. But it is also one of the most beautiful. Knowing this would be a very long drive (I had to be in Wawa in time for a book reading at the Rock Island Lodge) we made a very early start, then plugged in at the Beaver Motor Inn's L2 charger in Nipigon while eating a leisurely breakfast nearby. The next leg took us to Terrace Bay, for another long charge at the Red Dog Inn while eating lunch and hiking a short section of the coastal trail running from Rossport to Terrace Bay. We now had the range we would need for the remaining long haul to Wawa and beyond to Rock Island Lodge, but we hadn't counted on the weather change. Ah, rookies! Those in the know will tell you a sunny day in July can quickly become a drizzly and VERY foggy one. For much of the next 200km we had to drive cautiously and at a reduced speed. Would we get to my event in time? Would we get there at all? With caution and patience, we did get there, in the nick of time. But we needn't have bothered, it turned out. Nobody came! Whether it was the fog and then a local deluge, or just the fact of being an unknown author in Wawa in July, I'll never know. The dinner, though, was great and so was the Lodge. Then a small consolation: a late-arriving Swiss tourist and her daughter came in out of the rain in search of a place to park and sleep. A long chat led to a book sale. Now only 6 remained. But I had no more events. Or maybe I did!
The next day the owner asked if (as we were staying on for two more days of paddling) I could do the event that night instead. Why not? So after a full day "socked in" by fog—good for reading and walking and drawing—the sun came out and the fog lifted in time for a book reading. A rapt audience of 14 or so staff and visitors attended and joined in. Those six books? Signed and gone, the final one going to James from Milton Keynes, UK (currently residing in Mississauga).
Book-less, but very happy, we did a half-day canoe trip down the Michipicoten River with Naturally Superior Adventures, ending with a short paddle along the (increasingly rough) Lake Superior shoreline. In an open canoe, I was gripping my paddle more tightly than usual.
Day 46 (Wawa ON to Chutes Provincial Park — 430km)
This long drive was punctuated by natural beauty stops at Old Woman Bay and the Agawa Rock Pictographs and a swim at Pancake Bay Provincial Park—which was a nostalgic stop, as this is where I had learned to swim as a young child on my own family's cross-Canada road trip "back in the day" (1970).  In Sault Ste. Marie the fast charger at Northside Volkswagen gave Belle the additional range she'd need to make it to Chutes Provincial Park. For extra comfort, we stopped at Pier Seventeen restaurant and motel to eat and charge. I was pleased to see the Sun Country Highway L2 back in action, as it had failed me six weeks earlier.
Day 47 (Chutes Provincial Park to Sudbury ON — 100km)
Nothing much to report here, apart from a fast but noisy 40km bike ride along Hwy 17 to start the day. 
Day 48 (Sudbury ON to Ottawa ON — 484km)
We had toyed with spending a few days camping in the general vicinity of Sudbury or the upper Ottawa River, but after so long on the road we voted unanimously to buckle up and make the long haul back to Ottawa. First, though, a radio interview with CBC Sudbury in English and then French.
On the road, Mattawa provided a fast charger and a place to picnic. This would be the only charge stop of the day. The other stop was for ice cream! Unlike my June 3 outbound first day from Ottawa into a howling headwind—where I had to recharge twice—the homeward journey benefitted from a healthy tailwind. We made it home for supper, generously cooked for us by older daughter Gaia. The house was still standing, and the home L2 charger still worked just fine!
After 10,700 kilometres, 19 book events and about 75 charges of various lengths, the Electric Burning Souls Road Trip was over. All books sold. I never even had to use the Premier level CAA membership I'd purchased "just in case." A successful book tour by all measures!